Special Celebrity Cooking Class
1 p.m. to 4 p.m.
(includes class, meal, wine, 1st edition autographed copy of Cooking Know-How and tax)
Bruce Weinstein & Mark Scarbrough

Celebrity cookbook authors, Bruce Weinstein and Mark Scarbrough, are making a trip to Sotto Sopra on Sunday, May 3rd. They will be doing a cooking demonstration class featuring recipes from their just released cookbook, Cooking Know-How ~Be a Better Cook with Hundreds of Easy Techniques, Step-by-Step Photos and Ideas for over 500 Great Meals.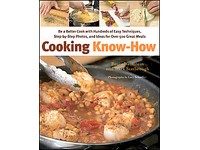 Bruce Weinstein and Mark Scarbrough, the creators of the bestselling Ultimate cookbook series, are known for their great recipes. But in their exciting new book, Weinstein and Scarbrough provide more than just recipes: they demonstrate the essential techniques people need to become more confident in the kitchen.
Welcome to a whole new kind of cookbook.
"Knowing how to cook has challenged lots of men. Women, too. What most people learn is a specific recipe: how to make this pasta sauce, or that loaf of bread. What about learning how to cook in general? And not just the 'how' but the 'how come?' That requires a technique book.
"What you'll find in this book is an alphabetical list of sixty-five recipe-driven, technique-centered explications that build out into hundreds of dishes."
Armed with the knowledge of the simple mechanics of a dish, the five or so steps it takes to make it, you can walk into the market, find what's fresh (or on special), bring it home, and have dinner on the table without any worries, any overly romantic pretensions, or any cookbooks piled on the floor: fresh every time--and your way, too."--from the Introduction"The recipes are structured without being fussy and the majority are relatively easy. This is a welcome rarity, imparting a useful, innovative framework as well as the confidence to depart from it."
--Publishers Weekly
Enjoy the class, sample 4 recipes, have wine and go home with a 1st edition autographed copy of the book, tax and gratuity included for just $85 per person. Weinstein and Scarbrough are not only super food savvy they are extremely entertaining...this is a DON'T MISS class.
Learn more about Weinstein and Scarbrough, sample some of their recipes and smile, Real Food Has Curves. Check out there video HERE. Many of you might remember them from Dan Durian's radio program on WBAL.
Guaranteed reservations are required. Cancellation policy: If you cancel your reservation at no later than 24 hours before the class you will not be charged. Any cancellations less than 24 hours will be billed. Students are asked to sign a release form in order to enter the restaurant kitchen.